Centerless Grinder-CG 100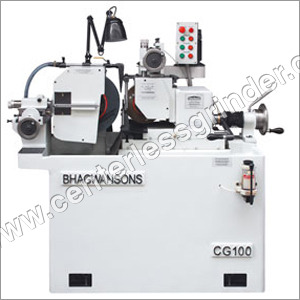 Centerless Grinder-CG 100
Product Code : CG - 100
Brand Name : BHAGWANSONS
Centerless Grinder CG 100
We take immense pride to introduce ourselves as one of the trustworthy manufacturers and exporters of Centerless Grinder CG 100. At our premises, we have manufactured the grinders as per international standards using finest quality of raw materials. The grinder, which we are offering is extensively used in automotive, electronics and engineering industries for varied grinding purposes. Further, owing to its simple operation, manual dressing slides and low maintenance cost, this Centerless Grinder CG 100 is highly demanded among esteemed clients.

Salient Features
Most economical

Suitable for small components through feed and infeed
Grinding wheel and regulating wheel head fitted with precision bearings
Hand wheel graduation for depth of cut 0.02mm
Grinding wheel duly balanced
Technical Specifications:
Grinding Capacity

Diameter

Min. 1mm
Max. 75mm
Grinding Wheel

Diameter
Width
Bore
Speed

350 mm
100 mm
152 mm
Min. 1800 R.P.M.
Max. 2000 R.P.M.

Regulating Wheel

Diameter
Width
Bore
Recess both sides
Speed

225 mm
100 mm
76 mm
145 x 30 mm
Min. 20 R.P.M.
Med. 40 R.P.M.
Max. 100 R.P.M.

Tilting Angle

+5o/-2o

Power Requirements

Grinding Wheel Motor
Regulating Wheel Motor
Hydraulic Unit Motor

5.5/7.5 KW/HP
0.75/1.0 KW/HP
0.12/0.16 KW/HP

Dimensions & Weight

Length
Width
Height
Centre Height of Wheels
Net Weight Approx.

1650 mm
1050 mm
1510 mm
1000 mm
1600 Kgs.
Standard Accessories
Grinding wheel with flange, Regulating wheel with flange
Coolant pump with tank, Hydraulic tank with pump
Work rest blade for through feed grinding, Hand pump lubrication for slides
Machine lamp, Splash guards
Instruction manual, Tool kit
Optional Accessories
Motorized centralized lubrication for slides
Micro feed fine adjustment for depth of cut
A.C. drive for regulating wheel head
Wheel balancing stand with arbor
Additional grinding wheel flange
Additional regulating wheel flange
Additional work rest blade through feed
Additional work rest blade infeed
Magnetic coolant separator
Paper cum magnetic coolant separator
Anti vibration pads,Vibratory bowl feeder
Bar feeder for long bar grinding
Automatic feeder for through feed grinding
Automatic balancing for grinding wheel
Contact Details
BHAGWANSONS
Gill Road, Opp. I.T.I., Ludhiana - 141003, Punjab, India